This Phone call Caused 22 Swear Words...
Self-imposed deadlines are one thing... and artists seldom have reality match up to the vision in their heads...but knowing that you suddenly have to rush a project is another thing altogether.
The phone rang during supper last night and one of the wonderful organizers from the CreativFestival asked me how the jeans were going.
"Just fine!" I said "I'm having so much fun with this project that I started a Blog about the adventure!"
"Are they all done?" she asked, ever so sweetly. "Could you ship them up to us tomorrow?"
The world paused momentarily while my brain tried to process that information and I heard my voice squeak a bit.
"Ummm. No."
"What about Friday? Could you ship them out Friday?" she asked a bit more insistently.
My brain is now trying to frantically compute how many hours that leaves me to work on said pants amid getting my class kits made up, playing tour guide to Nick's father and his wife who are here until Friday morning, sleep etc. How much can I alter my vision to ensure that a good reality still ships out. I assure her that this might be a possibility, especially when she informs me that the jeans may be on Canada AM, our national morning news show.
So, everyone in the family pitches in to clear the supper dishes and give me the table.
On go the polar bears thanks to a warm iron and fusible interfacing....
Tick...Tock...Tick...Tock (shoot photo to capture stage...)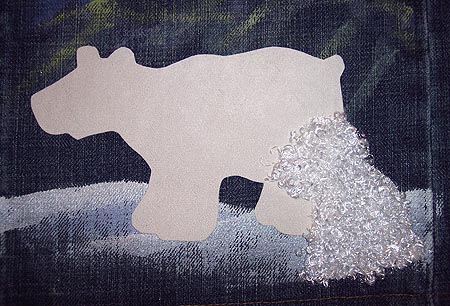 Then they get some details and outlining. Instead of doing this with thread, I am going to have to use 3D fabric paint. Hmmmm, slight compromise.
tick...tock...tick...tock (CLICK)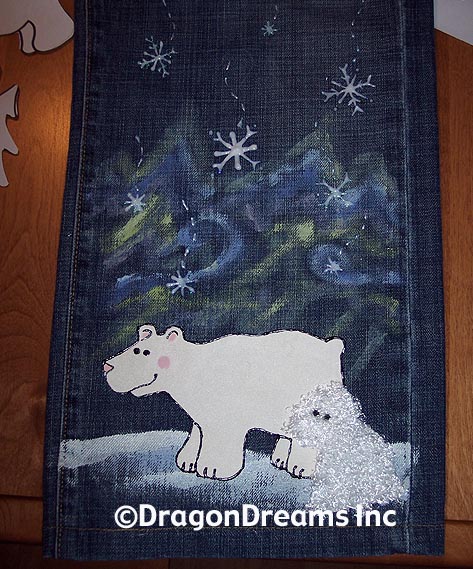 The beaver gets his details and some nice teeth for chomping down trees. Boy, squeezing these tubes of fabric paint is murder on your hands!!
tick...tock...tick...tock (CLICK)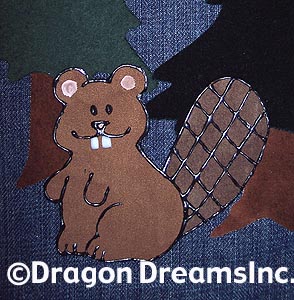 I look back over at the polar bears who are drying nicely against the Northern lights and decide that some gentle snowflakes might be nice.
tick...tock...tick...tock (CLICK)
Up above the beaver and trees on the other pant leg, I begin to paint a poutine. A QUEBEC poutine. When I first moved to New Brunswick, I discovered that Acadian Poutine and Quebec poutine are TOTALLY DIFFERENT. Quebec poutine is a bowl of hot, crisp french fries topped with squeaky cheese curds and delicious gravy. Acadian poutine is a lump of salt pork covered in grated potato formed into a snowball shape and boiled, served with molasses on a plate. All I could think of when I saw the round grey shape was that some poor elephant was now singing soprano!!!
Why am I painting poutine onto a pair of Rick Mercer's jeans? One of his most famous/ infamous moments was telling then Governor George Bush that Prime Minister Jean POUTINE (instead of Jean Chrétien) was going to endorse his bid for President. Once the painting is done, I add the words to commemorate that historic sketch.
tick...tock...tick...tock (CLICK)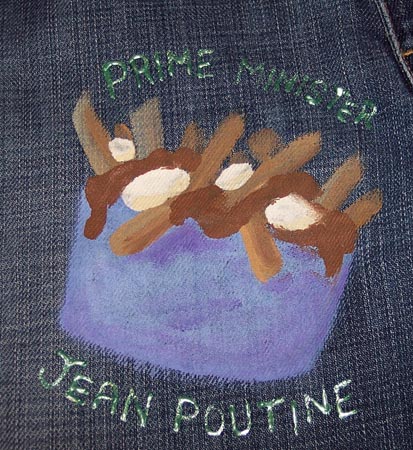 One of the shows that Rick Mercer is famous for is TALKING WITH AMERICANS, so that has to be worked into the front leg above the polar bears, but that means creating Canadian and American flags. I discover that I'm pretty sure that the American flag begins with a red stripe, but I don't know how many there are on the whole flag. Luckily Nick has is wi-fi laptop on in the living room so I don't need to run down to the office to use Google. OK... 13 stripes, red first and last.
Breathe Jen... you can do the whole front of the pants tonight if you really try.
(My brain goes into a rather pathetic whine as I take a break to put the girls to bed. I REALLY wanted to blanket stitch around each of the trees with DMC floss for a nice rustic look. Now I may not have time. Wannnnhhhh! 30 second pity party.)
Back to the flags. By this point, my hands are getting REALLY tired of squeezing fabric paint bottles in a nice steady pressure to avoid glopping, but I have two flags and the lettering.
tick...tock...tick...tock (CLICK)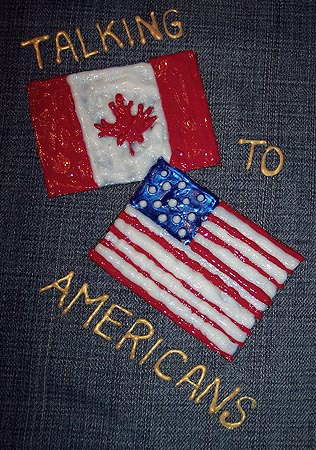 Everything on the front of the pants is completed for now and the paint will need about 18 hours to cure. That means I can do Rick Mercer's rear... I mean the rear of Rick Mercer's jeans tomorrow night and still ship them off by Friday.
I glance at my watch. 6 hours more off the tally, so 11 hours left in the 22, but I may have to ship them before I've put in 22 hours. My brain just can't do math anymore.
How am I going to blog about this? Nick gives me the title when he realizes that I have remembered some of the Greek swear words I learned in high school. Good title, honey!!